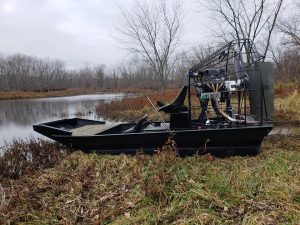 Gale Marine is home of the area's finest custom made airboats. We have proudly put our name on our products since 2012. We use only the best LS engines and parts – like Whirlwind, Century Drive, Ox Box Gear Reductions and Quick Slick.
Gale Marine boats and trailers are built to order, rather than from a cookie cutter fabrication shop.  Jake is known for his straight forward and honest approach to achieve the design and durability you are looking for.
Each boat is individually made with attention to the details for our customer and the purpose the boat will be used. We believe each customer deserves the boat they have dreamed of.
Custom Painting
Give it the WOW factor!
Gale Marine does custom paint not only on these beautiful boats but on yours too!  We apply Mil-Spec, Marine Grade enamel paint from Camo Designs by Ricky, LLC.  This paint has 18+ years of formulation, field testing and mil-spec, and is designed to use on (DTM) Direct to Metal.  Solid color paint is included with every new custom boat build at Gale Marine, and we are a licensed vendor of Reelfoot Custom Camo.  We would be happy to paint your boat one of these camo designs for an additional cost.
To make your boat ride more smoothly over whatever it is you may encounter out there, we can apply QuickSlick bottom coating on your boat too!